Free Matsumoto Walking Guidebook is now newly issued!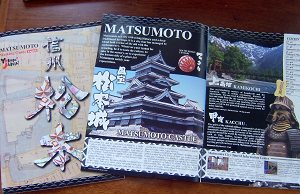 Matsumoto city has issued English Matsumoto Walking Guidebook this March. It is a 32 page handy booklet and contains a convenient list of restaurants/bars, hotels/ryokans, and other travel information.
The unique point of this guidebook is, seven native English speakers from various countries who live in/around Matsumoto wrote columns as "personal recommendation by local residents".
All other articles were also translated by native English speakers who can read Japanese, so the English in the booklet is natural.
This guidebook is distributed freely at the Tourist Information Centers in Matsumoto.
I believe you can enjoy travelling/strolling/living in Matsumoto more than before with this perfect guidebook!