Two girls from Singapores' Shamisen experience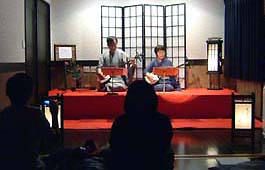 Two girls from Singapore emailed our web site and said they, "want to hear the beautiful sounds of shamisen on weekdays". I asked Shamisen Geiyukan, which opens only on Sunday and national holidays usually. Then, they held a special live show for them.


The girls enjoyed listening to the live sound of shamisen and Hauta (pop songs in Edo period) and then, also could experience playing the shamisen. They learned to play a Japanese song "Sakura, Sakura (Cherry Blossoms)" by the shamisen a bit.


They were interested in shamisen, so I took them to the shamisen craftshop Matsuno in Nakamachi. We talked with one young guy who was making a new shamisen.
I hope it was a special experience with Japanese traditional culture for them.
Shamisen Geiyukan is very small space but the players are very kind to foreigners and you can feel and experience a nice atmosphere. Geiyukan is featured in the French famous guidebook Michelin Green Guide Japan.