Digital Brochure of the Walking Guidebook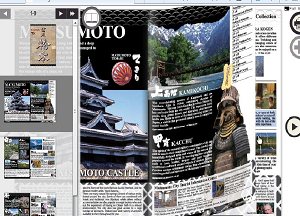 We added an "e-Brochure" to the left side of our site. You can see a digital brochure of the English Matsumoto Walking Guidebook which we newly issued this March. The way to read the brochure is very easy and interesting like digital books such as Apple's iPad and Amazon's Kindle.
You can get the paper brochure in tourist info centers and some hotels in Matsumoto, and some places in Tokyo (i.e. TIC Tokyo near Tokyo Station, Sawanoya Ryokan, which is popular budget ryokan in Yanaka and Hotel Sunroute Plaza Shinjuku). But, it is difficult to distribute paper brochures to foreign countries, so the digital brochure is a good way to learn about Matsumoto before you come to Japan and I guess digital brochures will increase even in other places.