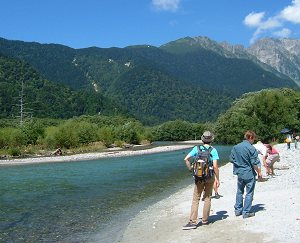 On the weekend of September 4th-5th, a group of Nagano-based English teachers headed up to Kamikochi to check out the sights, access and facilities. Matsumoto City started the Kamikochi Inbound Project this April to meet the needs of growing numbers of international visitors to Kamikochi and the Japan Alps national park. This time round, 14 English speakers had signed up to a 1 night 2 day trip to the mountains which was sponsored by Alpico and the Kamikochi Tourist Association.
Day 1 – After an early start, everyone met at Matsumoto station to check out the access to the mountains. Amazingly, everybody made it ON TIME for the 8AM start, but the Tourist Information Office was still closed. Office (when it's open) there would be plenty of helping hands to point new arrivals in the direction of the Japan Alps. Also, the 2-day bus/train pass made it easy to get up – and down – without worrying about extra transport expenses.
After changing from the mountain railway to a bus at Shinshimashima, we continued on up the 158 highway which follows the the Azusa River up the valley to Kamikochi. The blue skies were reflected back in the water of the 3 huge dams we passed before a series of long tunnels finally lead us into the Kamikochi basin itself. On arriving at Kamikochi, we checked out the Information Centre and Bus Terminal before setting off on a Guided Tour of the Kamikochi basin downstream to Taisho-ike Pond. On the way, we walked through shady forests, past marshland and along wooden boardwalks. Our guide explained the Kesho Yanagi Willow trees lab reports and handed round a pair of binoculars so we could see the smoke rising from the top of Mt. Yakedake – the only active volcano in the Northern Alps. On the return trip we also met a pair of local Macaque monkeys who were entertaining tourists doing flips from tree to tree!
That night we stayed at some of Japan's most luxurious hotels, with the 14 volunteers spread out across 7 of the accommodation facilities. All stood up to the test of English Check-In, and more than held their own for comfort and hospitality. Even the weather was doing its best to promote Kamikochi, with amazing starlight skies and the Milky Way seeming to shine down directly on Kappa Bridge.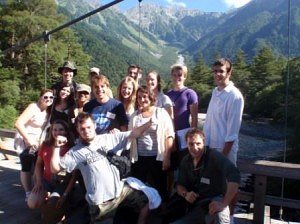 Day 2 – The next day dawned fine again and after breakfast we crossed the Kappa Bridge again before testing the water of the Shimizu River look here http://samedayessays.org/paper-editing/ a chilly 6 degrees centigrade! Next up was the Visitor Centre which had some amazing photos of the mountain ridges and peaks of the backcountry beyond. Then we set off for Myojin, following the Azusa upstream for an hour through the forest before emerging at Myojin where the smell of freshly fried fish was rising from the Kamonjigoya, 130 years old and home to Kamonji, the first hunter known to have lived at Kamikochi. We also saw the sacred shrine and pond, and – for extra good luck – a large grass snake whose sun bathing was rudely interrupted by 14 pairs of foreign hooves.
All too soon, we had to had head back downstream to the central area personal statement writers; we finished the final group discussion and had some lunch before people went their own seperate ways, tired out but refreshed by the Alpen experience and a great weekend in the mountains.
(Written by TOM on the Nagano Inbound Ambassadors Blog Page)