Climbing a Volcano from Kamikochi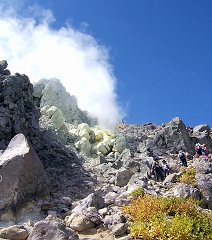 I climbed Mt. Yakedake on September 21st. Mt. Yakedake is an active volcano that you can see above Taisho-ike pond in Kamikochi. It took 4 hours to climb to the peak from Kamikochi, and 2.5 hours to go down to Nakanoyu Hot Springs. From Nakanoyu I caught a bus. From the peak, it takes about 3 hours if you return back to Kamikochi.
Mt. Yakedake is a popular mountain because it's an active volcano in the Japan Alps, and it's just a day-hike from Kamikochi. From the top of the mountain the view of the Japan Alps is fantastic. I saw vapor coming out around the peak and felt that the earth is really alive.




Photos: View of Hotaka Mountains and Kamikochi from the top of Yakadake / Morning at Kamikochi