A welcoming restauranteur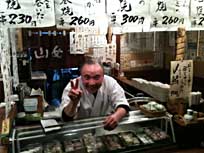 I've long been told that the best yakitori restaurant in town is Yamameya, but I have not been able to test the theory until last night. Fellow Yokoso contributor Tana & I were invited to join a couple of our students (who a regulars) there for food and drinks.
"Yakitori. What's that?" Basically anything you fancy on a stick, grilled. You can choose with some whether you want them salted our sauced (teriyaki). Taste is quite different so try both?
"What's on the menu?" Don't know, all in Japanese. BUT, the master can explain in rudimentary English + show you the raw materials; be adventurous and don't ask what it is until after you've enjoyed it. Personal favourites last night were beef tongue, liver, and stuffed shiitake mushrooms.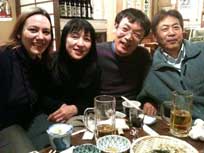 "Expensive?" No. Very reasonable.
"Drinks?" Notably large glasses of draft beer, bottled also available including 0%. Well-stocked selection of sake, ask for the owner's recommendation "ossusume" (why not try local labels?).
"Where is it?" About five minutes walk from the castle, two minutes off Frog Street.