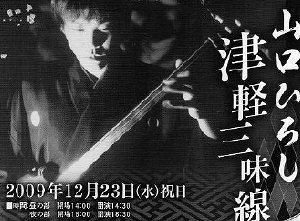 Do you know the shamisen? It is a traditional Japanese musical instrument used from the 16th century. Its origin is the sanshin, which uses snake skin, of Ryukyu (current Okinawa) islands.
Tsugaru shamisen is one of playing styles which incorporates a lot of improvisation and flashy fingerwork, similar to bluegrass banjo.
On December 23rd, the "Tsugaru Shamisen Xmas Love Concert" will be held at Classic-Kan, along Nakamachi Street. Classic-Kan is a pun of kura, which is a traditional Japanese building. You can enjoy hot shamisen music by a young shamisen player Yamaguchi Hiroshi in this kura.
Time: 14:30-, 18:30-
Price: 3,000 (Advance sale: 2,500)
Contact: Kikuoka Matsuno Shamisen Shop in Nakamachi 34-4433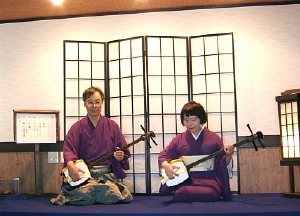 In Nakamachi, there is also a small concert hall called Shamisen Geiyukan where you can listen to live shamisen music and hauta songs every Sunday and national holiday. Hauta is a kind of pop music sung by geisha since the edo period. Shamisen Geiyukan is featured in Michelin Green Guide Japan this year!