Harquebuses Shooting Event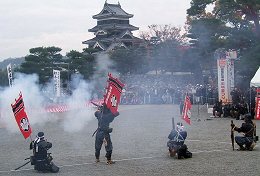 On October 25th, a harquebuses shooting event was held at Matsumoto Castle.
Harquebus collectors wearing 16-17th century samurai style dress carried their harquebuses and were shooting in the garden of the castle. The sound of harquebuses was very loud and powerful.
They were cool to watch, but I imagined how those arms had killed numerous people during the Middle Ages. I hope these kind of arms will not be used in real life any more.
Harquebuses shooting events are held in April or May and October annually at Matsumoto Castle.