Visiting Kamikochi and Norikura Hot Spring by the New 2-day Bus/train Pass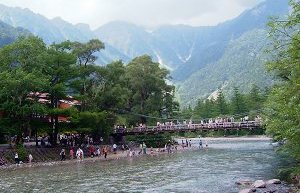 One week ago, I visited Kamikochi and Norikura Hot Spring using the new 2-day bus/train pass with my family.
We have had an incredibly hot summer this year in Japan and it was 35 degree C (95 deg F) downtown, but in Kamikochi and Norikura, (altitude is 1500 meters), it was 25 deg C (77 deg F).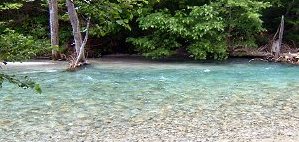 We enjoyed hiking in the cool wind, seeing the beautiful flow of a river, and soaking in a white water hot spring.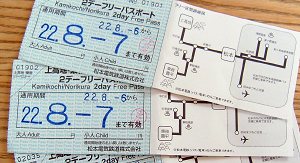 A one-way ticket from Matsumoto – Kamikochi is 2,400 yen, Kamikochi – Norikura is 1,700 yen, Norikura – Matsumoto is around 2,000 yen, so 5,000 yen for the 2-day pass including free bus ride also in downtown is cheap. By another pass, "4 Day Alps Wide Shinshu/Hida Free Passport", Y10,000, you can visit Takayama and Hida area. "3 Day Free Pass Shinshu" Y6,000 enables you to travel in Matsumoto downtown, Utsukushigahara, Nagano city, Hakuba, and Suwa area.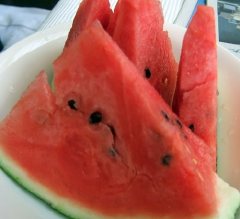 On the way back to downtown, we got a watermelon in the Hata area, which is famous for "the sweetest watermelons in Japan" and ate it at home. It was really delicious!