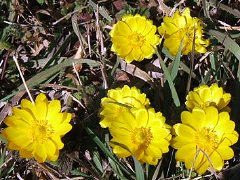 I found a wildflower called fukujuso (Far East Amur adonis) already blooming in a neighboring rice field.
Fukujuso is the earliest wildflower to bloom in Matsumoto. It's a sign that the long winter is coming to an end, and that spring is just around the corner.
Normally, it blooms at the end of February or the beginning of March. However, because global warming is affecting Matsumoto's seasons more and more every year, fukujuso is blooming earlier and earlier.