10 Meters High Snow Walls in Norikura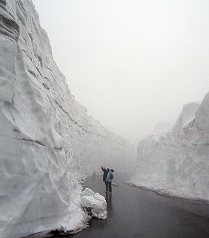 I went to Mt. Norikura to see the snow walls with my family on June 6th.
Norikura Echo Line, which is the highest road in Japan at 2,700m, opens in June every year. I drove to Norikura Kogen and from there I caught a special bus for skiers and climbers and walked down the road for an hour.
The highest snow wall along the road is around 10 meters high and is really an interesting experience. It was as if I were dreaming of walking in a huge refrigerator.
Tateyama Kurobe Alpine Route is famous for its higher snow walls, but it's more expensive. Norikura in June is cheaper (the bus is Y2,400 round trip) and an easier place to experience snow walls!
On Next Sunday (June 21), a popular marathon event "Heavenly Marathon in Norikura" will be held in the snow walls road.