Only 1000 Yen?! Are You Crazy?!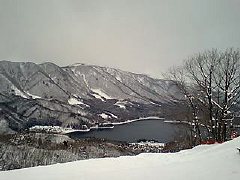 You'd be crazy not to! Yanaba Ski Area lift tickets are only 1000 yen this season. Take this opportunity to frugally enjoy some of the best things the winter season in Nagano has to offer- skiing and snowboarding.
Yanaba Ski Area has a great view of Lake Aokiko and the surrounding mountains. The snow is good and if you're a beginner, the runs are perfect. About 70% of the runs are for beginners and 30% for intermediate skiers and boarders. There is no expert terrain; however, Yanaba has an excellent terrain park. A half-pipe, quarter-pipes, banks, boxes, rails, and a canyon jump await you.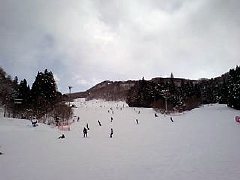 The resort basically consists of one wide run with a few smaller runs along the sides of the main one. There are 3 pair, or two person, lifts and 1 quad, or 4 person, lift. It is a small resort good for families. Snowbums and bunnies may grow a little bored, but it's only 1000 yen! And if you just can't pull yourself out of bed in the morning, you can always check out night skiing.
Getting there is easy and painless. You can either drive up 148 or take the Oito Line from Matsumoto Station to "Yanaba Ski Jo Mae Eki" (In Front of Yanaba Ski Area Station). Also, the parking situation is idea- the lot is right in front of the ski hill. The ski resort is just outside of Omachi Town.
Check out these sites for some helpful information:
In English:
http://www.snowjapan.com/e/resorts/resortdetail.php?resid=307
In Japanese:
www.yanaba.co.jp