New Feature: event schedule calendar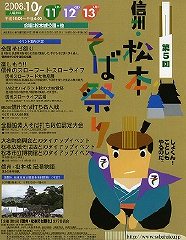 Poster of Soba Festival
Now Matsumoto is enjoying the beautiful fall foliage season. September and October also have many local and historical autumn harvest festival events, such as Soba Festival in Matsumot Castle and Asama Hot Spring Fire Festival.
We added an event schedule calendar to the Events page, using Google's Calendar service.
Anyone who has a Google account can register as an editor and add their favorite events in and around Matsumoto easily. Please add a comment or send me an email if you want to do so. Sharing an event calendar is interesting and useful for residents and also for visitors.