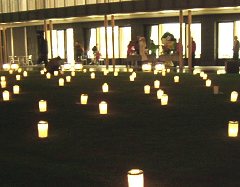 In Japan, Christmas is not always a day for spending with family. (New Years Day is the day for spending with family. For many young Japanese, Christmas Eve is a day for going out on dates and eating cakes (after Christmas Eve, all Japanese forget Christmas Day itself). Also, there are many spots to enjoy Christmas lights("illumination" in Japanese English) in and around Matsumoto, such as big real decorated trees in front of Parco, Shinshu University Hospital, and the Performing and Arts Center. In Azumino National Park, you can enjoy 200,000 Christmas lights.
Also, there are many events before and on Xmas.
See our Event Calendar Page.
I took the photo at The Museum of Art's Candle Night. On the 25th the Multilingual Christmas Carols Evening will be held.