Carrying a portable shrine in "Candy Festival"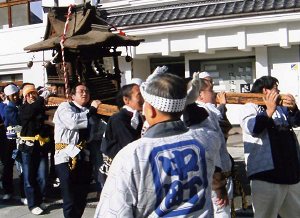 In the coldest season, Matsumoto has a hot festival — Ameichi, which means "Candy Market" Festival.
The festival started 430 years ago, during the Warring States Period when samurai warriors had fights!
Now, the main streets in Matsumoto are closed to car traffic and more than one hundred thousand visitors walk and enjoy the festival.
This year, Jan 10, I carried a portable shrine (mikoshi) for the first time. The shrine didn`t look heavy, but it was very heavy. Although 16 people carry one shrine, I had pains in my shoulder.
After carrying it, we had delicious sake and soba.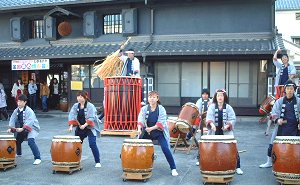 There are also many other events in the festival — taiko performance (see the right photo), traditional costume parade, Japanese candy exhibition, tug-of-wars, and darumas (fortune dolls) sold by only kids.
It is a fun event that celebrates the start of a new year.