The Craft Fair and the Matsumoto Craft Month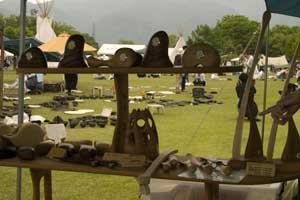 Matsumoto is a land of traditional crafts, such as wood crafts, lacquerware, fabric, and temari handballs.
Now, many craftsmen live in and around Matsumoto in quest of a good environment for crafts and art.
On this weekend (May 30th and 31st), the Matsumoto Craft Fair, one of the biggest craft fairs in Japan, will be held at Agata-no-Mori Park.
This year, a new event, the Matsumoto Craft Month, is also being held April 25th through May 31st. You can see many craft-related events and exhibitions in museums and galleries in Matsumoto. (Japanese site is here.)
Report of Matsumoto Craft Fair last year is here.