"Street Calligraphy Performance" by Calligraphy Girls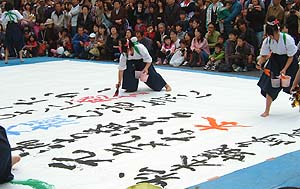 On Nov 3, the girls of Arigasaki High School calligraphy club did a "calligraphy performance" on Honmachi Street vehicle-free promenade. It was one of the events held in the annual Matsumoto Citizen's Festival.

Calligraphy performance has been popular in Japan for a few years. Last year, a movie "Calligraphy Girls" was made and sent to the Festival de Cannes market.
It was exiting and dynamic to see the girls draw big kanji characters on the road with their face and clothes spotted by Chinese ink. I heard the writing brush is so heavy (about 15kg) that they train their bodies.

A few years ago, Arigasaki High School's calligraphy club had only one member so it was on the verge of closing. But, it is now a very popular club activity because of the calligraphy performance. Last year, they were selected and appeared on a special TV program featuring a calligraphy performance contest and performed in front of Matsumoto Castle.

I also saw a samurai warrior costume parade in the festival (you can see more photos in the last year's blog).