Winter Wonderland: Snowshoeing in Kamikochi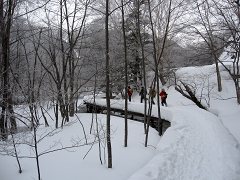 The Matsumoto area offers breathtaking scenery all year long, with each season bringing its own unique beauty.
After having seen Kamikochi's autumn splendor last year, I decided to see what it had in store for February. Although getting there in winter is more difficult, making the extra effort, if you're an avid day hiker, is more than worth it.
Kamikochi's surroundings are peaceful and pristine. White snow blankets the landscape. Instead of the hurried buzz of buses and high heel-clad tourists, all you can hear is the meditative "crunch, crunch" of snowshoes on the white trail.
The beauty starts shortly after the Kama Tunnel at Taisho Pond. Overlooking the pond is its creator, Yakedake. This active volcano erupted in 1915, causing mudslides which created the pond by damming the Azusa River. The beginning of the trail wanders alongside the Azusa River and upon snow-covered boardwalks. On the way you may spot rabbit tracks near your own footprints, trout in shallow inlets, or monkeys searching for food in trees or on the rocky shore of the river.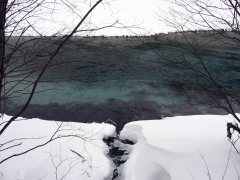 Your final destination is Kappa Bridge. In the summer, this is the busiest site in Kamikochi, but for now, it's quiet. Once there, you can take a well-deserved rest and admire the turquoise Azusa River and the soaring peaks of Nishihotakadake, Okuhotakadake, Maehotakadake, and Yakedake.
Please allow for a full day's hike. It takes about two and a half hours from the starting point of Kama Tunnel to Kappa Bridge, not including breaks. The trail is relatively flat, but hiking in the snow requires a lot of energy. Be prepared for the winter conditions and be in relatively good physical shape. There are a few good informative websites that include maps, transportation information, and local inn listings. Please remember that there is no winter transportation to Kamikochi or open facilities, so you must drive and hire a taxi from the parking area or stay at an inn that provides transportation.