WINTER HEAT at the Ice Fest!
Temperatures were droppin' but my heart always gets thumpin' when I think about the fun and excitement of the annual Ice Sculpture Festival. And this year was another good one. So good that I once again had to experience it both at night and the next day.
At midnight on Saturday night, it's all business as the sculptors cut, chisel and mold their raw ice blocks into their final forms. I got their just before midnight and once again felt the buzz of excitement (and the chainsaws!). I got up close and personal with those sculptures-in-progress, and the sculptors themselves are pretty much oblivious to the onlookers. They are really concentrating on their craft as they work into the night, under the bright spotlights. Time's ticking away, and all know that with the sunrise comes the completion of carving and time to display the finished works of art.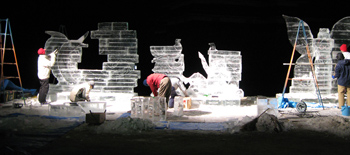 The next morning, Sunday, it's always a struggle to get out into the early crisp January morning but I never regret it. Before 10am, the setting is peaceful, quiet, just you and the finished ice art. This is the time to get those great photos, hopefully with the swans swimming nearby in the moat, and the Northern Alps and castle providing the scenic backdrop. All the night's sweat and creativity has been turned into frozen figures and scenes, eagles and bears, angels, fish and fishermen, abstract and representational, real winter art.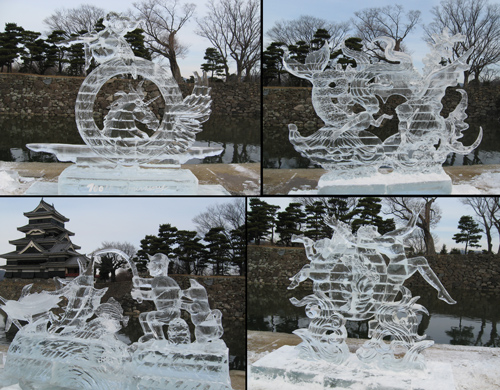 During the day, all the food stalls and kids entertainment come to life. Stroll around, meet the neighbors, have a crepe, some yakisoba, oden or or maybe a beer or cup of sake to take the chill from the air. They're all there. Ice Fest 2008. Chilly, creative, exciting. Warms the heart.