"Fireflies" dance in the air at downtown
A swarm of fireflies (hotaru in Japanese) have been seen in the small creek near downtown shopping center "Como Shonai Square" .
The people who visited the spot to see these fireflies say, "It is rather uncommon to be able to see so many fireflies in downtown area of Matsumoto." (News from MATSUMOTO KEIZAI SHINBUN(Japanese Web Newspaper))
A local volunteer group called "Shonai Fireflies and Water Preservation Project" has been working hard to protect natural environment including habitats and small creatures in this area for more than 5 years. "Fireflies are very fragile and sensitive insect, so it was not easy to protect their habitat and educate both commercial and local communities. " Ms. Kamijo from abovementioned group says.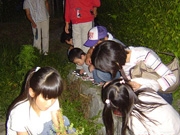 (copy right)Shonai Fireflies and Water Preservation Project
Local children who study fireflies with volunteer group.
Volunteer members of "Shonai Fireflies and Water Preservation Project" have given a short tour almost every night since the end of June, and the last guiding tour will be held on July 19th from 8:00 p.m.
When you go to see these small creatures, please be careful not to bother their natural environment.