Taiko Matsuri – Saturday night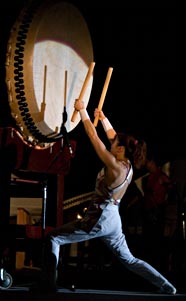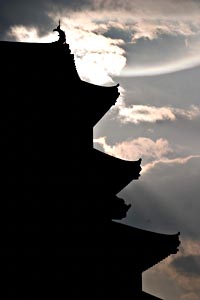 Saturday night's installment of drumming at the castle (Taiko Matsuri) was loosely billed as ladies' night, in that a majority of the performers were women. The quality was great, and the depth & variety of the performances a credit to whoever booked all the acts that performed. This annual event is getting better and better, and now in its 20th year showing some maturity.
This year the event was held in the grounds of the castle proper, with our castle looking rather broody against the darkening skies. The backdrop itself was splendid, especially with the backless stage. My only complaint of the whole event was that the angle the stage was at meant the audience missed the sun setting behind the performers.
Apart from a couple of speeches which dragged, the drumming was virtually non-stop – and the visual impact stunning. Besides the actual multitude of drummers drumming, were dancers & performers from Okinawa & Taiwan in traditional dress. For a moment I though we were in for Asian Morris dancing, but they were all far more accomplished & not a hanky in sight!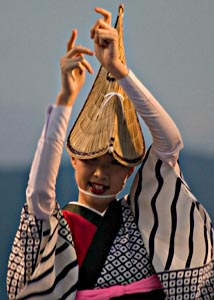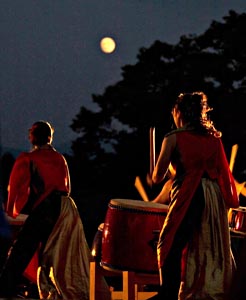 A well-known drumming sensei from Suwa took a bow & showed that age is no barrier. The entertainment built to a crescendo as the full moon climbed into the darkening sky; an all-female all-star cast of big-hitters wowed the crowd with power & precision hitting.
The finale was all hands on deck with every drum in sight getting a belting; quite right too! An excellent night at the castle, flawlessly put together by the backstage crew who deserve a pat on the back.
http://www.flickr.com/photos/saint_george/sets/72157601186071298/ for more images.