It's Matsumoto's 100th Birthday!!!!
The celebrations are going on all year, but today is the big day to get it all started. There will be special ceremonies and performances starting at 1 pm today at the Performing Arts Centre. Check out the events calendar for more details. 😉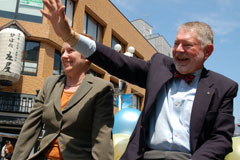 Yesterday, Robert and Gwen Springmeyer (my parents) sat in the back of an open car waving as they drove through the streets of Matsumoto. They are here representing Salt Lake City, Matsumoto's oldest Sister City. Nearly 30 years ago they came here on a similar mission to celebrate the Sister City relationship that was 20 years old at the time. They had such an exciting time here that the morning before they flew back home, they were married in Akanamia Jinja along the Metaba River right here in Matsumoto.
Since that day, they have organized and taken part in inumerable exchange programs between Salt Lake City and Matsumoto. The biggest of which it the Salt Lake City International Life School a summer exchange program that my mother organizes every year. Since it began, over 600 Matsumoto highschool students have gone to Salt Lake City, stayed in host families, practiced their English, rafted on the colorado river, slept under the stars, and riden through mountains on horse back.
The 27th International Life School will take place this year. It is open to High school students and mature Jr High school students. For more information please contact City Hall.