Ondekoza at Matsumoto Castle!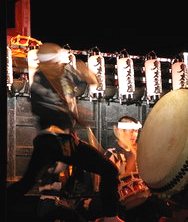 If you're in the area and didn't have a chance to check out the Taiko Festival yesterday, make sure to check out the last day on Sunday! I watched most of Saturday's festival, and it was amazing. All of the groups were spectacular (or just darn cute, as was the case with a couple of all-kid teams).
Definitely not to be missed was the guest pro team, Ondekoza. Not only was the playing exceptional, but they threw in a lot of humor too – and you didn't need Japanese to understand it. The performance on Saturday featured a fight between shakuhachi (Japanese flute) vs. drum vs…kendama?! (kendama – a child's toy) It was a rhythm war that was both hilarious and incredible. You'll have to see it to believe it – I think it was my favorite performance of the whole day. They also used some unique tools and styles of playing, such as hitting bamboo drums, playing while doing sit-ups, and playing with what appeared to be the sticks used to beat out futons. They'll be playing again on Sunday from around 7:45pm, but show up early if you want to try to get seats – despite the rain today, the seating was full by about 7.
If you saw Saturday's performance and there were some groups that you really loved, you might be able to check them out again on Sunday. The groups are basically switching stages, with some groups from Saturday's evening performance playing in front of Parco and the groups who played in front of Parco moving to the Castle Stage for Sunday (plus some additional groups).