Get out the hiking boots!
Ready for fresh air, exercise (yeah, a little sweat) and a great time??
A hike to Mt. Chougatake (Japanese: 蝶ヶ岳) in the nearby Alps was just the perfect way to get "out there." My wife and I recently went to Kamikochi and hiked from there up to the top of Chougatake. Wow! What a great place it is up there on the alpine ridge.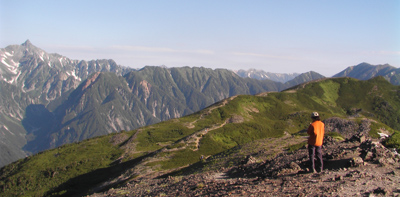 It was certainly a bit of a sweat and a grunt for a few hours of climbing through the forest (about 5 or 6 hours). But hey patience, patience — the biggest reward is at the top. And, what a view from the top it is! The air was cool up there and the 360-degree view is SPECTACULAR. For a hiker, it is really one of the great places to be. We stayed the night at the Chougatake Mountain Lodge, and it offers meals and a comfy place to sleep. There's a place to pitch a tent up there too.
The next day, we hiked down the other side of the range into Misato, just northwest of Matsumoto. There are also alternate trails back down to Kamikochi, along the ridge to Mt. Jonen and some other options too.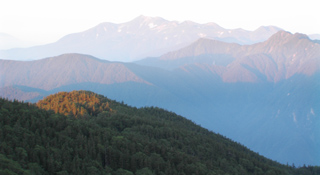 Now's the time … to get up into the hills and mountains around Matsumoto. If you like your air and scenery COOL and FRESH, then a hike in the northern Alps is the thing for you. From now (August) until about mid-November, the hikes in this area of Japan are wonderful.
Get out there on the trail. Beat the heat, and see Japan from about 3,000 meters up!